Transgender Empowerment Program - Prevention Resource Network
(732) 502-0934
Asbury Park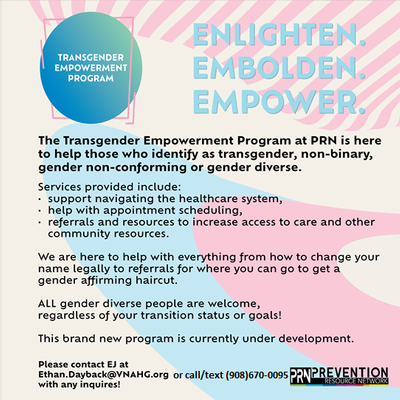 Transgender Empowerment Program is run through Prevention Resource Network. The Transgender Empowerment Program is here to help those who identify as transgender, non-binary, gender non-conforming or gender diverse. Serving teens and adults in New Jersey.
Services provided include:
support navigating the healthcare system
help with appointment scheduling

referrals and resources to increase access to care and other community resources
We are here to help with everything from how to change your name legally to referrals for where you can go out and get a gender affirming haircut.
All gender diverse people are welcome, regardless of your transition status or goals!
Please contact EJ at Ethan.Dayback@vnahg.org or call/text 906-670-0095
Eligibility
gender nonconforming, transgender, or gender diverse individuals.
Age Groups
Community Services

Family & Support Services

Legal / Advocacy

Payment Options
Last Updated: 01/17/23