Ocean County Consortium: First-Time Homebuyer Program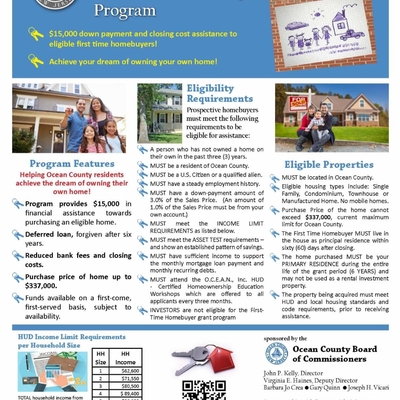 About:
FIRST TIME HOMEBUYER PROGRAM is proudly sponsored by the Ocean County Board of Commissioners on behalf of the Ocean County Consortium through the County Planning Department.
The First Time Homebuyer Program is administered in partnership with O.C.E.A.N, Inc. The O.C.E.A.N., Inc. Housing Counselor will be the Applicant's point of contact to provide assistance and guide them throughout the process.
The Ocean County Consortium receives HOME Investment Partnership Program funding each year from the U.S. Department of Housing and Urban Development (HUD). HOME Program funds are used to create affordable housing for low and moderate income households.
Program Features:
The program provides $15,000 in financial assistance to qualified low and moderate Ocean County residents to assist in the opportunity to purchase a home in Ocean County.
The homebuyer must have a minimum of 3.0% of the Sales Price as down-payment; however, only 1.0% is required to be from the homebuyer's account. The remaining 2.0% can be from gift funds or from the First Time Homebuyer program.
The assistance is in the form of a deferred loan, and is secured by a second mortgage, which is forgiven and canceled after a period of six years.
The program features reduced bank fees and closing costs.
Mortgage discount points are permissible only if paid by buyer or seller and not through program grant funds.
Participating Lenders agree to comply with the Ocean County First Time Homebuyer Program Guidelines and offer equal services to our applicants.
Eligibility Requirements:
MUST be a resident of Ocean County.
MUST be a U.S. Citizen or a qualified alien.
MUST have a steady employment history.
MUST have a down-payment amount of 3.0% of the Sales Price. NOTE: An amount of 1.0% of the Sales Price must be from your own account.
MUST meet the HUD INCOME LIMIT REQUIREMENTS below.
MUST meet the CREDIT REPORT REQUIREMENTS – your credit score must comply with the mortgage standards to be deemed "mortgage ready" with a minimum credit score of 620.
MUST have sufficient income to support the monthly mortgage loan payment and monthly recurring debts.
MUST have a TWO MONTH RESERVE of the TOTAL MONTHLY MORTGAGE PAYMENT in the bank. This includes the monthly principal, interest, taxes, Homeowners' Insurance, Mortgage Insurance and Homeowners Association Dues. This will be verified by submitting a current bank statement.
MUST meet the ASSET TEST requirements (Page 6) – and show an established pattern of savings.
MUST attend the O.C.E.A.N., Inc. HUD Certified Homeownership Education Workshops, which are offered to all applicants that submitted their completed applications, forms and all supporting documents. The two-part (6 hours total) workshops are offered every three months.
ALL APPLICANTS MUST be enrolled in the grant program. (The mortgage loan may be in one name only, but the grant requires all Applicants be enrolled.)
Visit: https://oceaninc.org/housing-programs to learn more
| | |
| --- | --- |
| Eligibility | MUST be a resident of Ocean County. MUST be a U.S. Citizen or a qualified alien.  MUST have a steady employment history. MUST have a down-payment amount of 3.0% of the Sales Price. NOTE: An amount of 1.0% of the Sales Price must be from your own account. MUST meet the HUD INCOME LIMIT REQUIREMENTS below. MUST meet the CREDIT REPORT REQUIREMENTS – your credit score must comply with the mortgage standards to be deemed "mortgage ready" with a minimum credit score of 620. MUST have sufficient income to support the monthly mortgage loan payment and monthly recurring debts. MUST have a TWO MONTH RESERVE of the TOTAL MONTHLY MORTGAGE PAYMENT in the bank. This includes the monthly principal, interest, taxes, Homeowners' Insurance, Mortgage Insurance and Homeowners Association Dues. This will be verified by submitting a current bank statement. MUST meet the ASSET TEST requirements (Page 6) – and show an established pattern of savings. MUST attend the O.C.E.A.N., Inc. HUD Certified Homeownership Education Workshops, which are offered to all applicants that submitted their completed applications, forms and all supporting documents. The two-part (6 hours total) workshops are offered every three months. ALL APPLICANTS MUST be enrolled in the grant program. (The mortgage loan may be in one name only, but the grant requires all Applicants be enrolled.) |
| Age Groups | |
| Community Services | Basic Needs / Assistance |
Last Updated: 01/17/23