Ocean Partnership for Children Game Changers Group
Begins Meets Tuesdays 5:00 - 6:30 PM
Toms River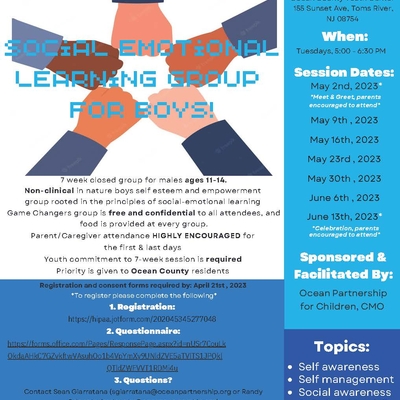 Ocean Partnership for Children Game Changers Group is a 7 week closed group for 12 boys who are 11-14 yrs to learn social-emotional learning techniques. Groups are held at the Ocean County Youth Center (155 Sunset Ave, Toms River, NJ 08754). Groups are held on Tuesdays from 5/2-6/13 from 5:00 PM - 6:30 PM.
Registration closes on 4/21. Complete registration here: https://hipaa.jotform.com/202045345277048 and questionnaire here: https://forms.office.com/Pages/ResponsePage.aspx?id=nUSr7CouLkOkdaAHkC7GZvkftwVAsuhOo1b4VpYmXy9UNldZVE5aTVlTS1JPQklQTldZWFVVT1RDMi4u
Contact Sean Giarratana (sgiarratana@oceanpartnership.org) or Randy Orlowsky (rorlowsky@oceanpartnership.org) with any questions.
Eligibility
boys age 11-14
Age Groups
Gender-Specific
Community Services

Arts & Recreation

Family & Support Services

Health Services

Behavioral / Mental Health

Payment Options
Last Updated: 04/07/23