Welcome to Ocean ResourceNet
We provide a wide range of information about support, resources, and services for families in Ocean County, New Jersey.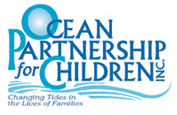 Ocean ResourceNet is sponsored by Ocean Partnership for Children.
How can ResourceNet help you?

Families can find specific recreational activities, health providers, support groups, and events in your area. If you are a resident of Ocean County, NJ, please subscribe to our Monthly Events and News.
Share & Subscribe

Health Providers and Community Organizations are able to list their community and health resources, hotlines, support groups, and events. Do you provide services in Ocean County?
ACA On-line learning library.

The Family Support Center of NJ training department conducts interactive sessions intended to assist families of children with developmental disabilities targeting different age ranges in order to address unique needs. For professionals, trainings are provided across various disability specific areas of interest, including; education, employment and other professional development areas. Within each of the training sessions, attendees are exposed to appropriate advocacy strategies and are encouraged to develop a person centered approach towards planning and services.

POAC offers a multitude of training opportunities throughout the state of New Jersey. Our workshops are available in full day sessions, half day sessions, evening sessions, and can be packaged as a full series. They are run in locations throughout the state during the week and on weekends in an effort to meet the varied scheduling requirements of anyone involved with teaching and caring for those with autism. All workshops have applications for a variety of developmental disabilities across varied environments.